NAME
Lucifer
AGE
Three years old
GENDER
Brute
CLASS
Foedus
RANK
Sicarius
S.O.
Pansexual
PHYSIQUE
OVERALL APPEARENCE
Lucifer is somewhat of a giant. He has a strong muscular build and long powerful legs. He has a narrow and long body, fit for his rank as an assassin. He has two overgrown front teeth that are slightly visible even when his mouth's closed. His coat is a very dark dark chocolate brown. He has a black face, legs and tail. His eyes are light silver, like the moon.
FUR LENGTH
Short
FUR COLOR
Very dark chocolate brown
FUR TEXTURE
Smooth and fluffy
SCARS/MARKINGS
His body is covered in scars, but they are patched by his fur.
SCENT
Smells of Chamomile because Luc believes it can deal with insomnia which he often suffers.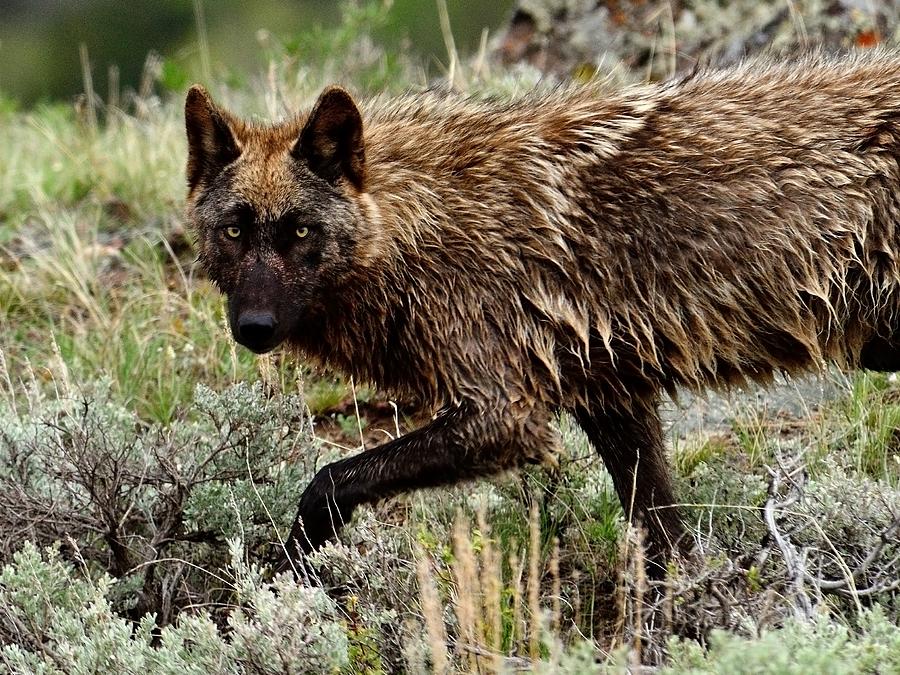 PERSONA
PERSONALITY
Lucifer is an obedient soldier. Like a robot, he does what's he's told without a second thought. He believes he is a lower being made only to obey. He sees himself of no importance, like a tool that should be used. He would happily die for the pack if it meant being of some help to someone. He is devoted to use all his strength no matter how tired he becomes.
Outside his rank, Lucifer is a silent and emotionless brute. He doesn't understand feelings like happiness and anger, and struggles in showing such expressions. He's a lot like a child in that aspect. Lucifer doesn't talk much but will listen to anyone. He likes having others paying attention to him. It makes him feel important. Lucifer doesn't like to push his opinions on others so prefers to say nothing at all. Only if one talks to him will he talk back. He is extremely formal to his pack mates, and gets confused when one teases or jokes.
Lucifer is desperate to improve and learn to show emotion. He wants to be able to fit in and be normal.
MENTAL STATE
Normal, very very normal.
HISTORY
Lucifer was bred and raised to be a killing machine. Alongside his siblings he went through intense training. Failure resulted in getting beaten up and locked in a dark cold cave. He learnt not to show emotion and to never give mercy. Lucifer's regular beatings made him stronger, and much more desperate. At the age of yearlings, Lucifer and his siblings were given one last test. To kill everyone else. The brute obeyed, and killed his family. The test turned him into the emotionless robot he is today. He became the killing machine the pack desired. For 2 long years, Lucifer obeyed and murdered his targets. He felt nothing and lived in utter darkness. Fear grew in his heart, and he began to despise himself. He slaughtered his birth pack and ran. Ran as fast as he could. Lucifer searched for a way out. A way to end the pain in his chest, and to end his nightmares. Unable to kill himself, the brute moved on. He tried to join packs, but was feared and rejected. As time went on, his fur grew over his scars and he became less terrifying to look out. Lucifer's story continues, searching for a pack to accept him. To help him in becoming normal.
RELATIONSHIPS
CRUSH
None
MATE
None
OFFSPRING
None
SIRE
Unknown
DAM
Unknown
SIBLINGS
Sol - brother- Deceased
Crow - brother- Deceased
Pyre - brother- Deceased
Ravina - sister- Deceased
Rai - sister - Deceased



Posts

: 47


Join date

: 2015-02-24


Age

: 22


Location

: In your fridge, eating your food. :3



He looks amazing can't wait to rp with you



Posts

: 53


Join date

: 2015-02-22


Age

: 24


Location

: Around



Good job Lucifer. Welcome to Aevus.
Admin




Posts

: 78


Join date

: 2015-02-18


Age

: 22


Location

: Oblivion



Thanks. Can't wait to RP with you all. ^^



Posts

: 47


Join date

: 2015-02-24


Age

: 22


Location

: In your fridge, eating your food. :3





Similar topics
---
Permissions in this forum:
You
cannot
reply to topics in this forum